Family Canine Pension & Home Services
Discover our services in our menu.
This company is approved by the DDPP of Moselle N°57-245 - N°Siret: 75403021100025
Here the pension is collective; the dogs are free in the property.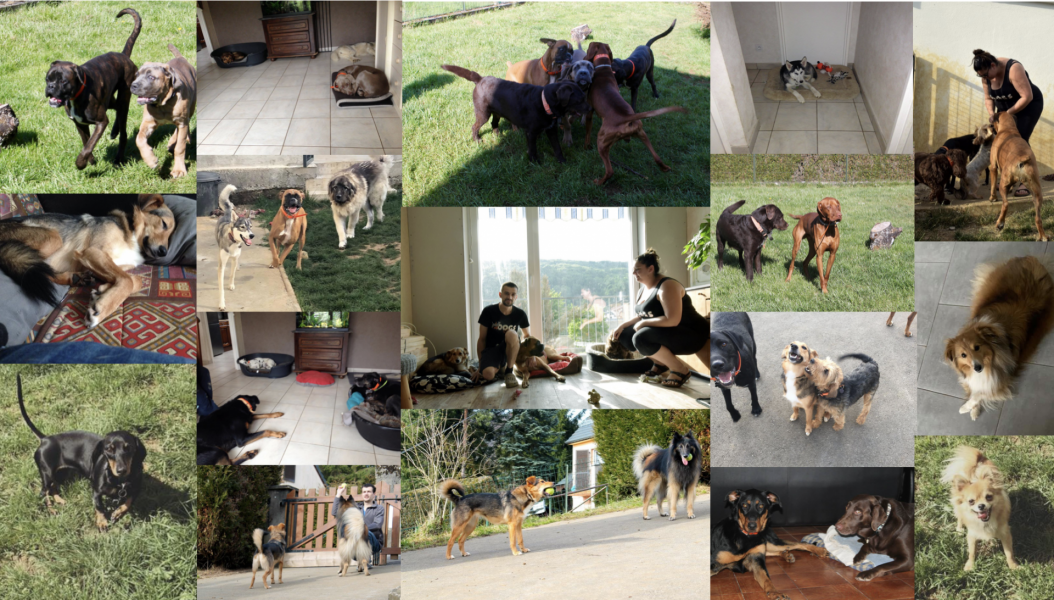 Welcome to Dogs-sitter57!
At Laura & Bryan's, it's like home!
No box, no kennel, it's a real furnished house waiting for your companion...
Are you planning a weekend, a holiday?
Do you have an unexpected event, or perhaps a business trip?
An emergency or any other reason?
For short or long periods of time...
What services does our boarding house offer?
- A family pension for dogs, but also for rabbits, small rodents and birds.
For the optimal comfort of the animals, we only offer 8 dog places and 4 NAC (Nouveaux Animaux de Compagnie / exotic pets) places per day. Please make your arrangements for the care of your pets well in advance, so that we can guarantee the availability of a place at the pension.
- A personalized adaptation in pension, for your puppy from 3 months.
- A home service for all types of animals: cats, dogs, exotic pets, horses, chickens, etc... Or for everyone at the same time!
- A daily walk for your dog.
- A pet taxi service for short daily trips.
- A grooming service in partnership with a super groomer, for a beautiful return home.
Your companion's well-being is our priority!
Entrust your dog to Dogs-sitter57
it is the guarantee to benefit from a professional experience of more than 10 years with animals.
I will take care of your companion in a family setting, at our home, giving him all the attention and affection he needs.
He will live and sleep communally in the house, he will be able to run and play in the garden or park whenever he feels like it.
We adapt to very young dogs, through "puppy" adaptations, as well as to dogs that have experienced difficulties, or to older dogs.
At Dogs-sitter57, young and old are accepted!
* * Dogs of categories 1 and 2 cannot be accepted in family boarding; for insurance reasons, we are obliged to refuse them. However, we can offer you the home service. Thank you for your understanding.

MEUNIER Éric
On 08/11/2019
Superbe pension avec des personnes formidables et très professionnelles!! Mon BB Gétro a été accueilli ...
Laura Ferlicchi
On 05/11/2019
Encore merci pour cette garde à domicile. C'est très pratique... Mes bêtes ont l'air d'avoir aimé aussi ...
Zwiebel Bernard
On 10/10/2019
Mon chien Tequila a passer de très bonne vacances ! Laura aime vraiment les animaux ! Je pense refaire ...
Encore merci de vous être occupé de Touille chez moi (enfin, chez lui LOL) pendant mes vacances! Je l'ai ...
laurence kaniut
On 15/04/2019
C'est simple. On ne peut plus se passer de vous. Molly a sa deuxième maison chez vous. Quand vous avez ...
Grégory Graczyk
On 25/04/2018
Encore une fois superbe accueil nous sommes très heureux de laisser zawa chez vous le service à domicile ...
Pauline Lazzarino
On 23/04/2018
Laura est tout simplement géniale, elle s'adapte à nos petites contraintes de frontaliers et surtout ...
Je pense avoir trouvé le système de garde idéal pour mes chiens , surtout pour mon molosse géant hy ...
Barbosa henrion
On 05/03/2018
Merci Laura pour vos services,votre professionnalisme vous êtes toppissime.J 'en été très satisfaite ...
Nous avons été très satisfait du sejour de notre chien à la pension. Il s'agissait d'un séjour test, ...